Integrative Men's Health & Family Medicine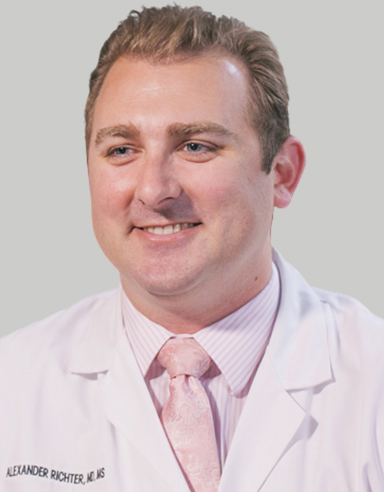 Alexander Richter, MD, MS
Alexander Richter, M.D., M.S., is a Board-Certified and fellowship trained Orthopedic Spine Surgeon, with expertise in the treatment of the neck and back including but not limited to cervical, thoracic and lumbar spinal surgery. Dr. Richter is Board-Certified and a Diplomate of the American Board of Orthopeadic Surgery, and a fellow of the American Academy of Orthopedic Surgeons.
After completing undergraduate studies at the University of Southern California, where Dr. Richter majored in Psychology, Dr. Richter matriculated at the prestigious Georgetown University, where Dr. Richter completed a Master of Science in Physiology and Biophysics, while simultaneously working as a Research Assistant at the Neuro-Oncology Department at the University of California, Los Angeles, David Geffen School of Medicine.
After earning his master's degree, Dr. Richter matriculated into medical school at the prestigious Albany Medical College in Albany, New York, while simultaneously working as a Research Assistant at the Spine Service Department, at the Hospital for Special Surgery, in New York City, New York. After completing medical school, Dr. Richter pursued rigorous residency training in orthopedic surgery at North Shore-Long Island Jewish Health System, in New Hyde Park, New York. There, Dr. Richter developed a passion for orthopedic neck and back surgery.
After completing residency, Dr. Richter relocated to his native California, where Dr. Richter further advanced his training by completing a rigorous and prestigious orthopedic spine fellowship at the world-renowned Hoag Orthopedic Institute, in Irvine, California.
Dr. Richter treats both degenerative and complex spine conditions, which often involve sport, work and trauma-related injuries.
In addition to serving as an orthopedic spine surgeon at Newport Care, Dr. Richter also serves as the Vice Chairman, Department of Surgery, Placentia Linda Hospital, in Placentia, California.
Dr. Richter's meticulous medical skills, coupled with his rigorous academic and fellowship training, ensure his patients receive the absolute best in spine surgery care available.