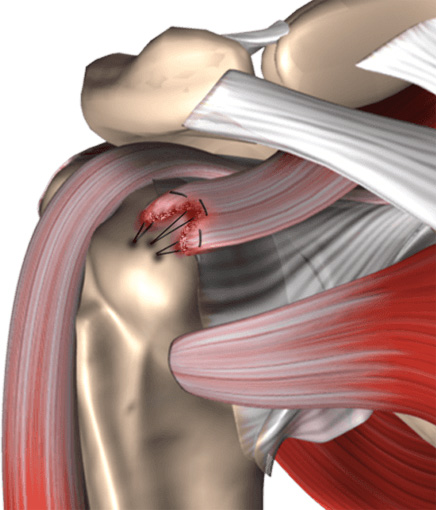 The shoulder is one of the most mobile joints in the body with a wide range of motion across multiple planes. Unfortunately, this amazing mobility makes the shoulder vulnerable to tears in the rotator cuff - a group of muscles that surround and stabilize the shoulder.
Rotator cuff tears are usually seen in athletes and those who perform repetitive overhead activities. Age-related wear and tear, reduced blood supply, and bone spurs further increase the risk developing of rotator cuff tears.
Today, the vast majority of rotator cuff repairs are performed using an arthroscope. Small poke holes are created through which telescopic devices are placed inside the joint allowing the surgeon to view the inside the joint on a large screen. Special slim instruments that can be inserted through separate channels are used to trim bone spurs, release inflamed or damaged biceps, remove debris, and reattach the rotator cuff.
The advances in shoulder arthroscopy that have made it the go-to procedure for treating rotator cuff tears include:
The use of magnifying lenses, fiberoptic technology, and digital monitoring which has significantly improved visualization of the inside of the shoulder joint.
The new versions of the arthroscope have smaller diameters, better optics, and can be maneuvered more easily around tight corners within the shoulder.
Advanced surgical techniques such as knotless double row repairs which increase tendon to bone contact and provide a secure fixation, and arthroscopic assisted latissimus dorsi transfer for irreparable posterior rotator cuff tears.
The development of new anchors such as bioabsorbable fully threaded suture anchors that allow the firm reattachment of the torn rotator cuff to bone so that it heals better and allows better functioning of the shoulder
If you have injured your rotator cuff and would like to explore the option of arthroscopic rotator cuff repair, contact your doctor or visit the experts at NewportCare Medical Group.
The NewportCare Medical Group is an outcome driven practice that offers personalized, high quality care to each patient. For all appointments and inquiries, call us today! .