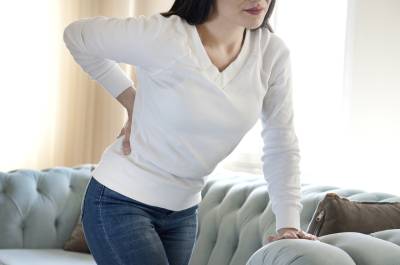 A back problem such as severe back pain that has been going on for a long time can start to affect your mood and behavior. This in turn could affect your ability to cope with the back pain and how strongly you feel it. It is important to take control of your mental state to prevent your back problem from bringing you down.
Stay active
Contrary to what many people think, exercising will not aggravate your back-pain symptoms. Exercises such as brisk walking, slow jogging, cycling, or swimming are all good for strengthening your back muscles. If you don't have the time to exercise, try increasing your activities as part of your daily routine. For example, take the stairs instead of the elevator or walk a bit further when shopping or parking. Simple things such as these will make a big difference in improving your back condition.
Maintain good posture
Sitting hunched over a computer for long hours can put a lot of stress on your back. Always remember to sit, stand, and walk tall, and use ergonomic furniture that helps support your back. Also, try not to stay in the same position for too long. Get up from your chair every half an hour and stretch your back.
Set realistic goals for improvement
Set goals to gradually improve your spine mobility and quality of life but don't push yourself too hard or you might risk worsening your back problem.
Learn relaxation techniques
Several research studies have shown that there is a strong link between stress and low back pain. Take time out of your day to perform some relaxation techniques such as Yoga, deep breathing, or Pilates. These are all techniques that can help you unwind from the stresses of daily living and better manage with your back pain.
If your back problem continues despite these conservative measures visit the spine specialists at NewportCare Medical Group for an accurate diagnosis and treatment recommendation.
NewportCare Medical Group is a comprehensive specialty group located in Newport Beach, California specializing in advanced non-surgical and surgical treatments for a wide range of orthopedic conditions.