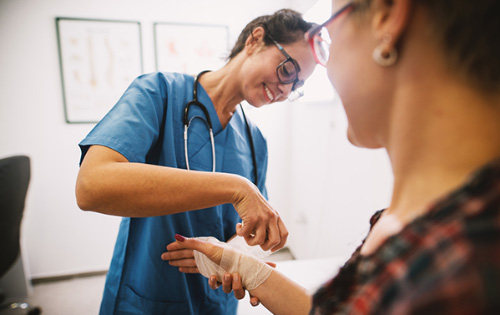 According to the U.S. National Institutes of Health, delayed wound healing is a silent epidemic that affects the lives of more than 6.5 million Americans today. If left untreated, chronic wounds could lead to loss of limb or even death!
A wound care specialist is a healthcare professional with advanced training in the treatment of all types of wounds including wounds caused by acute injuries, slow-healing wounds, nonhealing surgical wounds, pressure sores, and diabetic wounds.
Advanced treatments offered by a wound care specialist may include:
Surgical wound debridement
Wound biopsies
Skin grafting
Lifestyle risk assessment
Vascular studies
Hyperbaric oxygen treatment
Specialized wound dressings
Regenerative medicine treatment
Depending on the location and extent of the wound, specialists of different disciplines may be involved in treatment such as general surgery, plastic surgery, dermatology, vascular surgery, and podiatry.
An important key to successful healing of wounds is patient compliance with instructions provided by the doctor or wound care specialist on how to keep the wound clean, dry, intact, and promote blood flow to enhance healing.
Wound care specialists provide comprehensive patient and caregiver education to ensure the wound is properly cared for at home. Patients are also taught to recognize any signs of infection that may require extended professional care, so they can be appropriately treated.
In an aging population plagued with medical conditions such as obesity and diabetes that contribute to delayed healing, wound care specialists play a critical role in helping wounds heal faster, saving limbs and lives.
NewportCare Medical Center is equipped with many of the latest technologies in wound care and offers advanced treatments for a wide range of acute or chronic wounds. Consult our specialists for an in-depth evaluation and personalized treatment recommendation.
NewportCare Medical Group is a comprehensive specialty group located in Newport Beach, California specializing in advanced non-surgical and surgical treatments for a wide range of orthopedic conditions.