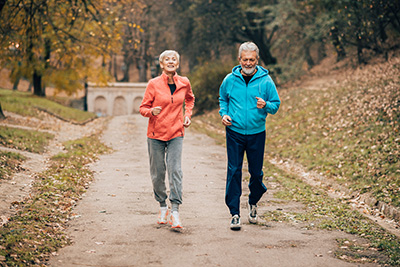 Did you know that people who don't exercise regularly are twice as likely to develop joint problems and heart disease as compared to people who do? Exercise can also strengthen joints and control blood pressure. It is an important key to lifelong physical independence.
Any type of aerobic activity promotes heart health and keep you at a healthy weight. Good examples of exercises are brisk walking, running, swimming, and biking. Even in with patients that struggle with their health, exercise provides significant benefits prolonging life and reducing the risk of complications.
How much should you exercise for better health? If you haven't exercised in a while, it is better to start out slow keep the intensity at a moderate level which would be about 50-70% of maximum heart rate. In general, your maximum heart rate is calculated as 220 minus your age. Gradually increase the duration and intensity of your workouts, but always stop exercising before you reach the point of total exhaustion.
The more you exercise, the more benefits you will get. A good beginner exercise program will be about 20- 25 minutes of some type of cardiovascular exercise 2 to 3 times a week. Make it your goal to reach 30 to 45 minutes every day as your fitness improves.
In addition to improving heart health, regular exercise can strengthen other muscles, reduce stress, improve quality of sleep, and will help you lose excess weight. You can further accelerate weight loss by cleaning up your diet, minimizing salt and saturated fats, and eating lots of fresh fruits and vegetables.
With February being designated as American Heart Month, now is the right time to focus on managing your weight, improving your exercise routine and reducing your risk of heart disease.
NewportCare Medical Group is a comprehensive specialty group located in Newport Beach, California specializing in advanced non-surgical and surgical treatments for a wide range of orthopedic conditions.