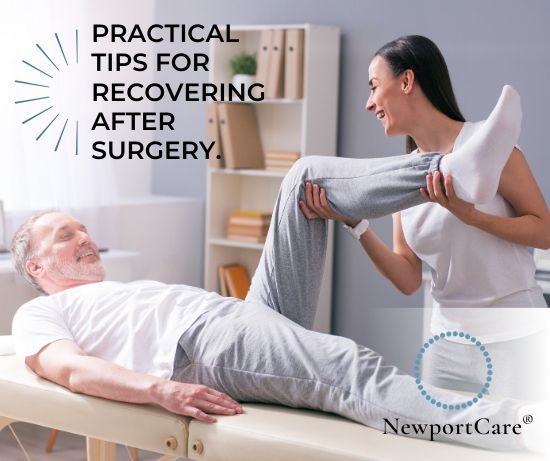 Tips to Prepare for Orthopaedic Surgery
Have you and your orthopedic surgeon decided that surgery is the right call for you? If so, it's the best plan of action to schedule an appointment with your Newport Beach Primary Care Physician (PCP). Your PCP will give you a physical examination before your operation. This pre-operative medical analysis assesses your health. As well, as establishing any conditions that would interfere with your surgery or your recovery time.
What are the most common types of Orthopedic Surgery?
Spinal surgery
Hand, wrist, and elbow surgery
Foot and ankle surgery
Arthroscopic surgery
Hip, knee, and shoulder replacement surgery
It may be necessary to undergo a few tests to help with your surgical plan. These tests are often blood and urine samples. Chest x-rays combined with radiographs, and an ECG or cardiogram is also suggested.
At NewportCare® Medical Group we do not want any skin irritation or infections on your skin before your operation. In the case that you have either of these conditions, you must tell your Orthopedic Surgeon in Newport Beach right away. Why is this important? Your surgeon will put in place a program for you which will improve your skin before your operation.
Are you currently taking any medications?
If you are taking any medications, let your surgeon know well beforehand. Together with your Primary Care Physician, they can provide you with direction on those medications you will be able to continue taking. As well as those you will need to stop before surgery.
Is your weight higher than it should be?
If you answered yes, then losing several pounds before your operation could be a major post-operative benefit. This helps to scale back stress on your new joints, ligaments, muscles, and tendons. It also helps aid in reducing surgical risks.
Reschedule any upcoming dental appointments.
Even though infections following orthopedic surgery are uncommon. One may occur in the event bacteria gets into your bloodstream. Bacteria can even gain entrance into the blood via dental procedures. It is wise to think about receiving treatment for major dental problems before your operation. This includes extractions of teeth and periodontal or preventative procedures. You should reschedule your appointment even for routine cleanings, until a few weeks after your operation.
Do you have a recent or frequent history of urinary tract infections?
One of our surgeons may ask you to see a Urologist before your surgery. This is also suggested for older men suffering from prostate problems. The goal of your post-operative treatment plan is to help you gain mobility with the use of crutches or a walker. In all probability you will need some help with common tasks. Everyday things we take for granted like grocery shopping, cooking, bathing, and simple tasks like doing laundry will be difficult by yourself for 3 to 4 weeks.
What if you live alone?
NewportCare® Medical Group and its surgeons in (or a caseworker or a discharge planner from the hospital) will be able to assist you in making advance arrangements. If you live alone, it is important to have somebody provide you with help around the house. If you need more extensive one-on-one personal care, there are options for you to recuperate at an extended-care facility.
Home Improvements You Should Make Before Your Operation
Fasten safety bars or handrails in your bathtub or shower areas.
Secure the hand-railing on all of your stairways.
Find a stable chair with a firm cushion, a firm back, and 2 arms that permits your knees to stay below your hips.
Install a raised seat on your toilet.
Install a stable bench or chair to sit on when you take a shower.
Use a sponge with a long handle and a detachable shower hose to help in bathing.
Use a stick for dressing, an aid for pulling up your socks, and a shoehorn with an extended handle to avoid excessive bending.
Use an adjustable reacher which will allow you to grab things so you don't have to bend over.
Place firm pillows in your chairs, couches, and vehicles. This will allow you to sit more with your knees below your hips.
Store away your area rugs, carpet runners, floor mats, and extension cords from the places you walk.
For more information on getting your home ready, you can visit the Arthritis Foundation's website and read the following article.
When will I be able to start moving around again?
Within several weeks of your operation, you should be free to move around the house without the use of ambulatory help. At this stage of your recovery you'll be able to start out-patient Physical Therapy. Newport Beach Physical Rehabilitation is a vital step in your recovery process. It won't be too long before you are up on your feet again and taking part in the activities you enjoy. Please visit NewportCare® Medical Group's website at the following link for educational videos that will help you learn about your procedure. You must know as much as possible about restrictions of physical activity to help you in your recovery.
NewportCare® Medical Group is a comprehensive specialty group located across Greater Southern California and Orange County. We specialize in advanced non-surgical and surgical treatments for a wide range of orthopedic conditions.