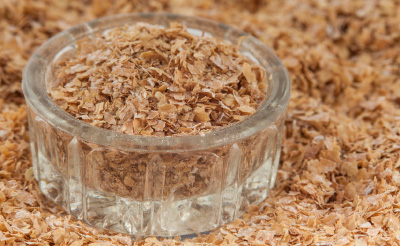 Constipation after orthopedic surgery occurs frequently and likely due to a combination of high levels of opioid medications for severe pain management, changes in fluid intake, diet and mobility limitations after surgery. Reported rates of constipation in postoperative orthopedic patient are between 40% and 60%. Because constipation frequently occurs in the postoperative orthopedic population, prevention and treatment of constipation are essential. Dietary fiber is thought to improve gastrointestinal motility (GI) and is recommended as the first line of therapy for prevention and treatment of constipation by national gastroenterology groups.
One study found that the dietary addition of 20 grams of wheat bran once a day in postoperative orthopedic patients significantly increased spontaneous bowel movements and decreased laxative administration (Ouellet et al, 1996).
Another source of dietary fiber constitutes plums/prunes. Similar to wheat bran, prunes are thought to increase GI motility because of their fiber content but unlike wheat bran, GI motility may also be aided by chlorogenic acids that are present in dried plums and prune juice and are known to increase peristaltic activity (Stacewicz-Sapuntzakis, 2013).
Authorship Bio:
Missra is a board certified Adult Nurse Practitioner. She graduated from Azusa Pacific University with her BSN and Long Beach State University with her MSN and Nurse Practitioner degree. Missra has been focusing on orthopedics for the past 8 years and loves every moment she gets to help her patients. Missra recently presented a poster for NAON (National Association of Orthopedic Nurses) on Developing Postoperative VTE prophylaxis guideline for Joint Replacement.