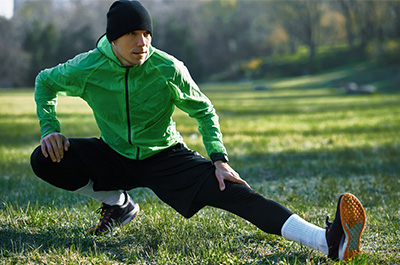 Getting back to spring sports after a winter break? Don't expect to simply pick up where you left off without adequate preparation. A long period of inactivity can decrease your fitness and increase the risk of sports injury. Here's how to get ready for spring sports:
Assess your current fitness level:

Simple tests for flexibility (touching your toes), endurance (running/walking on a treadmill), and strength (counting the number of pushups or squats you can do) will help determine how much training is required before you return to the sporting arena.

Start Slow:

It's important to ease into your workouts. Initially, do less even if you feel you can do more. This way you are less likely to get injured. Progressively increase the intensity with each workout until you reach your previous level of fitness.

Do sports-specific training:

Every sport has unique fitness requirements. For example, a football play will usually last no more than 10 seconds with about 35-40 seconds before the next play begins. So, a football conditioning program will put more emphasis on explosive speed training. A soccer game consists of two 45-minute sessions of near continuous play so it requires more emphasis on aerobic conditioning.

Always warm-up and cool down:

Take about 10 minutes before the game to do some light jogging and range of motion exercises to get the blood flowing into your muscles and joints. A thoroughly warmed up muscle is less likely to get injured. Equally important is to do gentle stretching movements after your game. This will reduce muscle soreness and help you recover faster.

Get a health check-up:

Most sports programs will require that you get a health check prior to the beginning of the season. This is a great idea as your doctor may be able to identify potential problems that might put you at risk for serious injury when playing sports.
Visit the sports medicine specialists at Newport Beach for treatment of any sports-related injury or musculoskeletal condition that is preventing participation in sports or activities you enjoy.
NewportCare Medical Group is a comprehensive specialty group located in Newport Beach, California specializing in advanced non-surgical and surgical treatments for a wide range of orthopedic conditions.