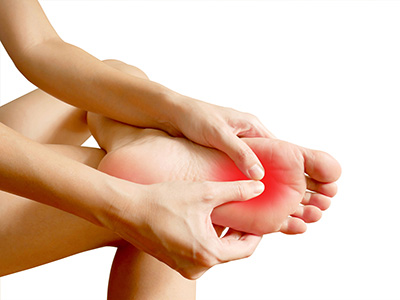 There can be a variety of causes for foot pain ranging from ill-fitting shoes to diabetes. Minor injuries may heal by themselves or with conservative care, but you shouldn't wait any longer than a couple of days before seeking care from a foot doctor or else you risk worsening not only your foot condition, but causing injury to other areas of your musculoskeletal system as well.
The majority of people have problems related to the underneath or back of the heel. This is usually caused by plantar fasciitis or Achilles tendon problems.
Another common problem is metatarsalgia or forefoot pain. This may be due to an overuse injury, tight calf muscles or trapped nerves. Sometimes the inflammation and swelling can lead to ligament disruption and destruction of the joints of the forefoot. Bursitis and bunions due to bony prominences are other common causes of forefoot pain.
Pain in the mid foot region may be caused by collapsed arches. This may occur due to an injury, gradual arch failure, or just being born with flat feet. The condition can cause lot of swelling and loss of foot shape which can lead to severe foot pain.
Altering your gait to offload a painful area in your foot is not the solution as this can create imbalanced forces leading to pain in the knees, hips, and back. If your foot pain is caused due to diabetes, delaying treatment could result in loss of the toe or foot.
If changing your footwear or performing exercises to improve foot flexibility and strength do not relieve your foot pain, make it a point to seek care from an orthopedic foot specialist for relief and to avoid other potential problems that foot pain can bring.
NewportCare Medical Group is a comprehensive specialty group located in Newport Beach, California specializing in advanced non-surgical and surgical treatments for a wide range of orthopedic conditions.