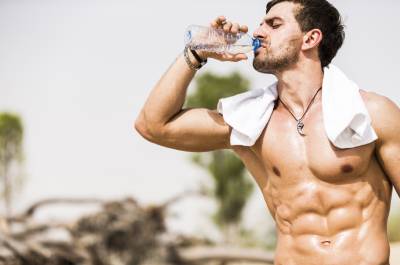 It's okay to miss the occasional workout due to hot weather, but don't let the summer season make you abandon your fitness goals & plans. Beat the heat with these tips to ensure you get the best out of your summer workouts:
1. Give yourself time to get acclimated to the hot weather conditions. It may take a week or two to get used to the heat and perform your workouts at your usual level of intensity.

2. Avoid working out in the hottest time of the day. Take advantage of the cool weather by exercising early in the morning or late in the evening.

3. Consider splitting up workouts. Summer isn't the best time for long workouts. If you are working out with weights, perhaps workout your upper body one day and lower body the next day.

4. Stay well hydrated. Always keep a bottle of water or a healthy sports drink near you while working out so you can replenish fluids and electrolytes lost through sweating to prevent muscle cramps or dehydration.

5. Wear light colored comfortable clothing. Heavy, tight-fitting, dark-colored clothing will absorb more heat, drain your energy, and may prevent you from completing your workout. Loose, lightweight clothing will help you stay cool and put more effort into your training.

6. Protect your skin from sun damage. Be sure to apply a sunscreen lotion before exercising outdoors. If your outdoor activities last longer than an hour or two, you should reapply the lotion.

7. Avoid overexerting yourself. Whether it's exercising, sports, or any physical activity in the summertime; never go to the point of where you feel dizzy or sick. Stop your activity immediately if you begin to feel this way and call it a day to allow your body to fully recover rather than risk a serious sun stroke.
Of note, it is a good idea to get checked up by your doctor before starting a new workout program especially if you have a medical condition or have not exercised in a while.
NewportCare Medical Group is a comprehensive specialty group located in Newport Beach, California specializing in advanced non-surgical and surgical treatments for a wide range of orthopedic conditions.