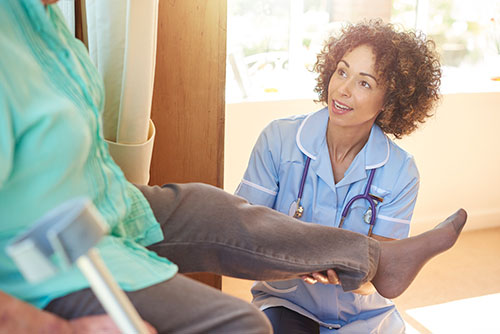 Did you know that approximately 30,000 knee replacements are performed every year in
the US alone? This number is expected to rise significantly in the future. This is in part due
to advances in medical science making it possible for people to live longer and more active
lives increasing the likelihood of wear and tear of the weightbearing joints.
Knee replacement surgery is an elective procedure and some individuals put off knee
replacement choosing instead to live with a damaged or arthritic knee until the knee pain is
unbearable. This approach does have some serious drawbacks.
Delaying the total knee replacement can cause:
Deformity of structures adjacent to the knee joint
Severe weakening of the surrounding muscles
Loss of ligament function
Worsening knee pain
Possible increased surgical risks when performing knee replacement later in life.
But how do you know when is the right time to consider knee replacement surgery? Here
are some indications:
Failure of conservative treatments – Your knee symptoms do not respond to use of pain medications, knee injections, physical therapy, and activity modification.
Knee pain interferes with routine activities – Activities of daily living such as walking and getting up from a sitting position become painful or you have problems getting a good night's sleep due to knee pain.
High functional demand placed on the knee – If you have a sedentary job that does not require much physical activity or weightbearing on the knee, you could probably avoid knee replacement. However, if you have sustained a crippling knee injury at an early age and would like to maintain an active lifestyle, it is best to consider knee replacement sooner rather than later.
Severity of the knee injury For knee pain due to early-stage arthritis or minor trauma, less invasive procedures such as knee arthroscopy may be able to resolve the condition. In case of end-stage arthritis or severe trauma, knee replacement may your best option.
If you suffer with chronic knee pain and loss of mobility that is affecting your quality of life,
visit the orthopedic specialists at NewportCare Medical to find out if you might be a candidate for knee replacement.
NewportCare Medical Group is a comprehensive specialty group located in Newport Beach,
California specializing in advanced non-surgical and surgical treatments for a wide range of
orthopedic conditions.