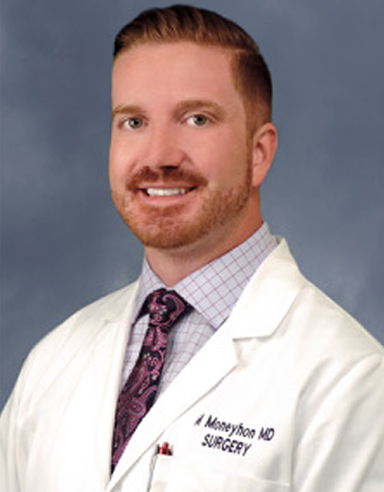 Michael Moneyhon
Michael Moneyhon, M.D. is Board-Certified by the American Board of Surgery as a General Surgeon, and who is also board-eligible, and fellowship trained in Hand and Microsurgery, with expertise in the treatment and surgery of the hand, wrist, forearm, and elbow.
After completing medical school at the University of Kentucky College of Medicine, Dr. Moneyhon relocated from his native home of Kentucky to California where he pursued residency training in General Surgery at the renowned Kaiser Permanente West Los Angeles Medical Center, and the University of California, Davis-San Joaquin General Hospital, where he served as a Chief General Surgery Resident during his last year. Following the completion of his General Surgery residency, Dr. Moneyhon joined Dameron Hospital of Stockton as a General Surgeon.
Dr. Moneyhon then further advanced his training by completing a prestigious Hand & Microsurgery fellowship at the Christine M. Kleinert Institute for Hand and Microsurgery at the University of Louisville School of Medicine. There Dr. Moneyhon's rigorous fellowship training included treatment of all ailments of the bone, nerve, vascular, and soft tissue including, but not limited to fractures, carpal tunnel, cubital tunnel, trigger fingers, DeQuerain's, arthroscopy, tendon ruptures, nerve repair, trauma, reconstruction, burns, and microsurgery.
Dr. Moneyhon treats both simple and complex hand and elbow disorders, which often involve sport, work, and trauma-related issues. Dr. Moneyhon thrives on overcoming the complex challenges faced in hand and microsurgery. His attention to detail rivals only his dedication to helping his patients recover from upper extremity injuries and returning to their favorite activities. Dr. Moneyhon's meticulous medical skills, combined with his rigorous academic medical training and professional bedside manner, ensures his patients receive the absolute best hand and microsurgery treatments and care available.