Board-Certified Foot & Ankle Surgery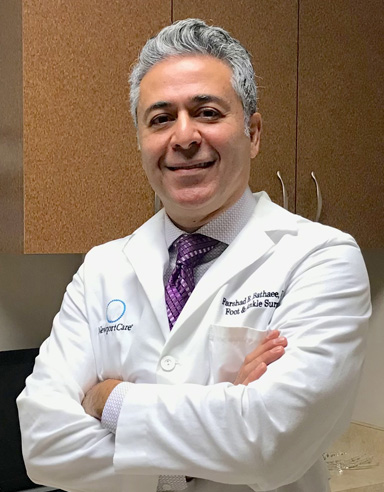 Farshad R. Bathaee, DPM
Dr. Farshad R Bathaee, DPM graduated from Pennsylvania College of Podiatric Medicine in 1997. He specializes primarily in Podiatry, Podiatric Surgery, Podiatric Foot & Ankle Surgery and he was certified by The American Board of Foot and Ankle Surgery.
Dr. Farshad R Bathaee also received Post Graduate Training at Holy Cross Hospital, Maryland; Premier Surgery Center of DC, Allegheny University Hospitals, Elkins Park Hospital, Pennsylvania.
Backed up with 16 years' experience, Dr. Farshad R Bathaee, DPM is renowned for his dedication and commitment. Dr. Bathaee believes that communication with both the patients and their family is the most important factor in optimal treatment outcomes.
Private Practice
Podiatrist, Foot and Ankle Surgery
Orange County, CA
June 2015 – Present
Private Practice
Podiatrist, Foot and Ankle Surgery
Ashburn, Virginia
August 2013 – May 2015
Center for Advanced Orthopaedic Surgery and Pain Management
Surgery of the Foot and Ankle
Ashburn, Virginia
January 2012 – July 2013
Chantilly Foot and Ankle Center, LLC
Founder/owner
Chantilly, Virginia
August 2001 – October 2011
Private Practice
Bethesda, Maryland
July 1999 – July 2001
Inova Fairfax Residency Program – Residents Training
2012 – 2015
Board certified by The American Board of Foot and Ankle Surgery
Holy Cross Hospital, Maryland
Premier Surgery Center of DC, District of Columbia
Allegheny University Hospitals, Elkins Park Hospital, Pennsylvania
Reston Hospital Center – Active Member Medical Staff
Department of Orthopaedics
Reston, Virginia
2004 – 2015
INOVA Loudoun Hospital
Department of Orthopaedics
Leesburg, Virginia
2012 – 2015
Saddle back Memorial Hospital
Department of Surgery
Laguna Hills, CA
Sept 2015 – present
Flat foot reconstructive procedures
Lateral ankle stabilizing procedures
Fractures repair, foot and ankle
Bunion surgery
Hammer toe surgery
Achilles tendinitis and repair
Minimal incision surgery
Nail surgery
Laser surgery
Patient Testimonials