Lead / Certified Radiologic Technician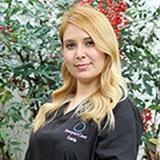 My name is Carla and I have worked for NewportCare Medical Group since 2016. I attended the Diagnostic Imaging program at Long Beach City College and graduated in 2015. I have been a Radiology Technician for a year and a half and have loved every minute of it.
My responsibilities at NewportCare include taking x-rays and assisting the doctors at the clinic.
My hobbies include spending as much time as I can with my family.
I look forward to continuing providing quality care for patients at NewportCare and the experiences that are yet to come as a Radiology Technician.