Lead / Medical Assistant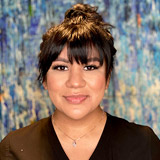 My name is Gabriela, and I am a Lead MA at Newport Care Medical Group in Newport Beach. Growing up, I was a very indecisive adult who did not know what career path she was going to take in life. I did quite a bit of volunteering as a teenager and in my early 20's to explore different careers which included Police Department, Fire Department, and CHOC Hospital. I thought the Police Department was for me but when I was at a crime scene, I was more interested in the paramedic's job and watching how their role was the most important at that moment. This is what truly inspired me to join the medical field. I want to be part of a patient's life when they need it the most and watch them progressively get better in hopes for a normal life again.
In my free time, I love to travel, go on food adventures, watch a good crime show, and as always listen to good music!