Lead / Medical Assistant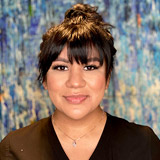 My name is Gaby. I found my interest in the medical field after volunteering for the Anaheim Police Department and Garden Grove Fire Department. I realized that caring for people was definitely in me and I have what it takes for a position that involves taking care of and working with people.
I have been with NewportCare for a very long time and have enjoyed every minute of my career.
Here at NewportCare, I make myself accessible for you and your loved ones to receive the best care possible. My priority has always been promptness and quality. We thank you for your interest and always looking forward to seeing you all.