Lead / Medical Assistant and X-Ray Technician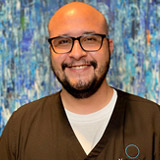 My name is Nick. I started working at NewportCare. I have a background in customer service, sales, and marketing. I went to Modern Technology School in Fountain Valley. I have done externships at NewportCare Medical Group, Back Bay Medical & Health Pointe Anaheim. My hobbies include gaming and going out with friends.
My responsibilities include Medical Assisting and X-ray, Blood draws, EKG's, rooming patients, and starting patient intakes.
My goal is to provide excellent patient care and make my patients feel at home in our office.