Personal Injury Lead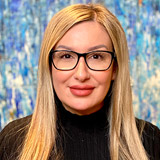 Hi, my name is Maria. I'm the Personal Injury Coordinator. My responsibilities are scheduling personal injury patients for new/follow-up appointments, injections and pre-op appointments.
I have a background working the Front Office with a plastic surgeon and scheduler/case manager at a Personal Injury Law Firm. Before working in the medical field and law firm, I used to work at a daycare with preschoolers.
Working with Newport Care, I have learned so much and can't wait to learn more.
During my free time I enjoy watching movies, going to the gym, cooking and best of all, spending time with my family.