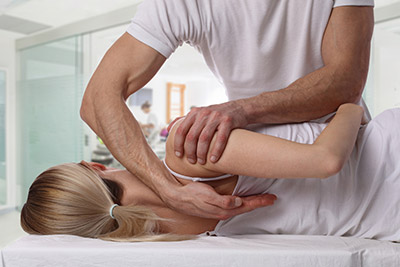 Are you sick of driving all the way to the Chiropractor just to be cracked and out of the office in less than a minute then told to return two more times that week for the rest of your life? Sound familiar?
Our approach comes the crack of Chiropractic care and therapeutic strengthening and flexibility exercises of physical therapy. We use the analogy of "Your body is like a house." Your bones, joints and Chiropractic care like the framing/foundation of the house. It's 100% necessary to start off with but you can only get so far in building your forever home by continuing to work on the framing/foundation.
If you want the house of your dreams, you need to work on the muscles and ligaments of the body or the stucco and pain to make the total package come together. You see, your muscles and ligaments support your bones and joints by holding them in proper alignment. If you continue to get adjustment after adjustment but never address the muscles, your joints will constantly move out of alignment and you will continue to make that drive three times per week, for life. Does it make sense to build a beautiful home and not paint it?
Try a new approach. We are that new approach! Come check us out in one of our three, convenient locations!
Authorship Bio:
Dr. Joseph J. Pacelli is a graduate of Villa Park High School and completed his undergraduate studies at the University of California, Santa Barbara. He earned his Doctorate degree from the Los Angeles College of Chiropractic. He continually attends post-graduate seminars, providing him with the latest techniques available.
Dr. Pacelli's extensive background in athletics, both at the competitive and recreational levels, gives him tremendous knowledge of sports injuries. His knowledge of athletic injuries allows him to provide proper rehabilitative exercises to patients to strengthen musculature and support chiropractic care.
As a Certified Health Coach, Dr. Pacelli regularly speaks to small groups as well as large organizations. He always provides the most current nutrition and lifestyle information. From the moment he started his chiropractic practice, Dr. Pacelli has helped thousands of patients, from newborn babies to thriving seniors.