Licensed Acupuncturist, Herbalist and Certified Acu-point Aroma Therapist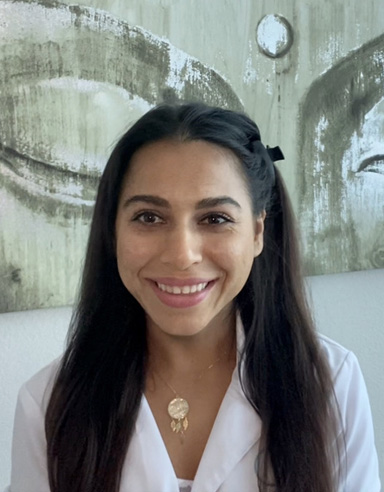 Dr. Juline Busuioc, DACM
Congratulations to Dr. Juline Busuioc in the completion of her Doctorate of Acupuncture and Chinese Medicine.
Juline is a licensed Acupuncturist, Herbalist and Certified Acu-point Aroma Therapist. She earned her Masters degree in Traditional Oriental Medicine from Pacific College of Oriental Medicine (PCOM) and also interned at a Women's center in San Diego where she specialized in the NADA protocol for treatments of addiction. She is licensed by the California Acupuncture Board and certified designated a Diplomate in Oriental Medicine by the National Certification Commission for Acupuncture and Oriental Medicine (NCCAOM).
Juline traveled through China and the Himalayan regions of Tibet to refine her studies at the Cheng Du University of Chinese Medicine and gained clinical experience at International Training Program in Chengdu Hospital of TCM. She trained with orthopaedic and dermatology specialists to integrate various aspects of Chinese Medicine with western clinical practices. As an Acu-ppoint Aroma Therapist, her practice includes the application of artisan produced essential oils with potent therapeutic energies applied to acupuncture points. These essential oils enhance acupuncture treatments or work as a stand-alone treatment to activate the limbic system. Their effects are powerful and gentle. Other post graduate studies have included extensive study of natural facial rejuvenation, medicinal foods, and anti-aging.
With more than ten years studying and practicing healing work, her specialties include pain management, surgical prevention, recovery and longevity support. This includes treatment of chronic back pain, migraines, hypertension, insomnia, anxiety, depression, digestive disorders, autoimmune disorders, allergies, stress and lifestyle and diet related imbalances. Her own journey to wellness and passion for natural medicine has her deeply engaged in educating patient's on lifestyle choices to help every ailment that comes her way. By inviting holistic wellness in your life, your time and care with Juline will be special and personalized to provide a palpable experience of how each functional system of the human body is interconnected.
California Licensed Acupuncturist (LA.c) #15621
National Acupuncture Certification (Dipl. O.M) #154596
National Certification Commission for Acupuncture and Oriental Medicine (NCCAOM)
Acupoint Aroma Therapist
Certified in NADA Protocol Therapy and Clean Needle Technique (CNT)
Certified in the International TCM Training Program
TCM ChengDu University of Traditional Chinese Medicine
Sound understanding of holistic health and integrative medicine principles
Experienced in Acupuncture techniques and alternative treatments
Knowledge of and ability to apply other additional integrative modalities, along with acupuncture (such as massage, aromatherapy, cupping, gua sha, moxibustion, energy work, and relaxation techniques).
Provision of acupuncture treatment through electrical stimulation
Diagnostic skills and methods with development of treatment plan with patient
Documentation of all treatment activity in patient's medical record
Competent in speaking/presentation/education skills, to deliver information/education about TCM, AQ and other integrative health topics in front of groups
Licensed Acupuncturist
Newport Care Ortho
Perform the acupuncture and alternative treatments; collaborate with a team of specialists and spinal surgeons, surgeon of the extremities, podiatrist, chiropractor and physical therapist.
Patient care, notes, diagnoses, and protocols are discussed among practitioners for an all-inclusive Western and Eastern approach to form a comprehensive treatment strategy.
Review patient's medical history, physical findings, and diagnosis made by physician to ascertain symptoms or disorder to be treated.
Administer acupuncture as a common and immediate treatment modality providing relief from pain for patients who cannot resume to their normal activities following an injury or a surgery, aimed in enabling the patients to enhance and restore the physical, sensory, intellectual, psychological and social function.
Incorporation of other treatments such as aromatherapy, acupressure, cupping, e-stim and moxibustion.
Network within the community at clinic or marketing events.
Licensed Acupuncturist
Wind Gate Acupuncture (currently named Brilliant Foundations)
Perform the acupuncture treatments and herbal prescriptions.
Administer specialized acupuncture treatments and aroma acu therapy of body and back pain, joint pain and inflammation, stress-related conditions, chronic headaches, digestive disorders, candida, women's health and skin conditions.
Apply authentic organic oils from artisan producers integrated with therapeutic energies and acupuncture points to activate the limbic system by reducing the number of needles needed.
Collaborate with two acupuncturists' business partners and one DAOM practicing as a neuroscientist and business executive coach.
Run the clinical side of the business, marketing and accounting roles.
Licensed Acupuncturist
La Jolla Integrative Health
Consult and diagnose evaluation including a detailed history and physical examination.
Develop patient and implement treatment plan, monitor progress.
Perform all the treatments, herbal prescriptions, patient intakes and duties of the acupuncturist.
Co-work with chiropractor and massage therapist on the site.
Acupuncturist Intern, Family Recovery Center and UCSD Clinic
Provide acupuncture treatment for pregnant and parenting women at the residential and outpatient treatment program.
Assist women recovering from substance abuse.
Implement the NADA ear protocol and body points for treating drug addictions, withdrawals, and mental illness.
Provide acupuncture treatment at the free clinic for homeless and patients with no access to other medical care with support of two staff members.
Treated a large scope of disease and symptom manifestation such as diabetes, hypertension, stress management, physical pain and emotional traumas.
Acupuncturist Intern, Pacific College of Oriental Medicine
Provided acupuncture treatment along with case studying and overview history after a full intake.
Prepared raw and capsuled herbal formulas in school clinic with support of supervisors to confirm chosen treatment protocols and oversee treatments were accurate.
Masters of Traditional Oriental Medicine (MSTOM)
Pacific College of Oriental Medicine
Master's Degree in Acupuncture or Oriental Medicine (MSAC or MSTOM) – Including biology, organic biochemistry, physics, psychology, anatomy and physiology, pathology, nutrition.
This is a 4 year accredited master's program of coursework and supervised practice in Acupuncture and Oriental Medicine. Coursework included extensive exposure to various clinical issues involving 1000+ on-site and off-site clinical hours.
Completion of Acu Aroma Training Program (AAT)Levels 1 & 2
Directed by; Peter Holmes LAc MH, and Tiffany Pollard, MS LAc, LMP, the seminars offered combine the fields of herbal medicine, clinical aromatherapy, and acupuncture. They addressed current issues in contemporary health care using the methodology of integrating energetic medicine with contemporary functional medicine. Their focus was clinical practice based on a combination of treatment experience and research. The discussions of treatment usually center on herbal and essential oil medicine, and secondarily on acupuncture and nutrition.
Certified in the International TCM Training Program TCM
ChengDu University of Traditional Chinese Medicine, China
Studied modern clinical TCM (Herbs and Acupuncture) at an intensive "Clinical Practicum" in ChengDu, China's first Traditional Chinese Medicine student Hospital.
The program provided an extensive study of TCM practice in modern China), focused on TCM Herbology and Acupuncture in an operating clinical setting.tifi
Herbology department of high interest in: Dermatology, Orthopaedic, Cardiac/Lung, Gynecology, General Medicine, and Oncology.
Various techniques were practiced including Acupuncture, Moxibustion, Herbology and Tui Na while shadowing some of the top masters in the field.
Other Trainings and Certifications
Completed training of an Esthetician
Coursework on Facial Rejuvenation with Acupuncture
Certified Glycolic Acid Exfoliation Techniques
Certified in the Treatment of Lung Syndromes with Diet Therapy
Completed Training Course in Sports Medicine
Appreciation Certification from Veterans Village of San Diego
Course work on Consciousness and Awareness
5-Day Intensive Coursework on the 12 basic Yoga Asanas and Yoga lifestyle
Medical Affiliate – Electronic Caregiver – Assisted in testing blood samples for seniors to identify which medicines will best fit their needs
Relevant Post Graduate Coursework – Institute of Brain Potential (IBP)
Calming an Overactive Brain
Reasoning With Unreasonable People: Focus on Disorders of Emotional Regulation
Training your Brain to Adopt Healthful Habits
Listening to the Body
Understanding Executive Functions
Understanding and Practicing Positive Psychology
Workshops Presented
Level 1 and 2 AcuAroma Therapy – Bella D'ora Spa & Salon, Carlsbad, CA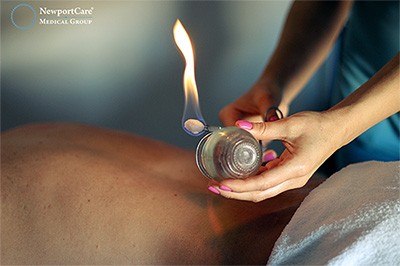 "In this traditional therapy, the fire is placed in the cup to remove the oxygen thus creating a vacuum seal once the cup is placed on the body. Healthy circulation is restored and inflammation is reduced to heal All the traumas of soft tissues, muscles, and ligaments, are of inflammatory pathology and the primary trauma can lead to long-term sequels and secondary sequels. Sprains, tendonitis, aponeurosis, contractures, congestions and persisting edema etc."
– Juline Busuioc, Licensed Acupuncturist at NewportCare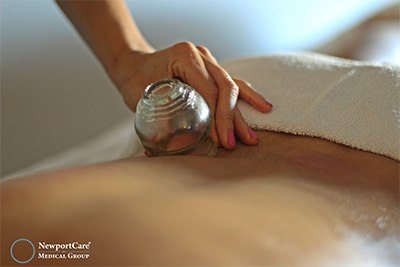 "Using traditional cupping techniques or "suction cups" with movement achieves a synergy between massage and cupping and optimizes all types of massage by promoting the deep drainage of connective tissue, fascia, lymph and other bodily fluids."
– Juline Busuioc, Licensed Acupuncturist at NewportCare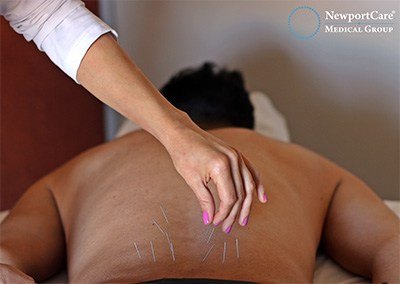 "Nearly 8 out of 10 people will have low back pain at some point in life. Evidence shows that acupuncture treats chronic and acute back pain. In this case, I am treating an acute L2 disc herniation. You may notice that one of the needles is offset. This is because the injury has disturbed the natural energy flow causing the needle to sit at a greater angle than the others."
– Juline Busuioc, Licensed Acupuncturist at NewportCare