Board Certified Orthopedic Surgeon and Upper Extremity Surgeon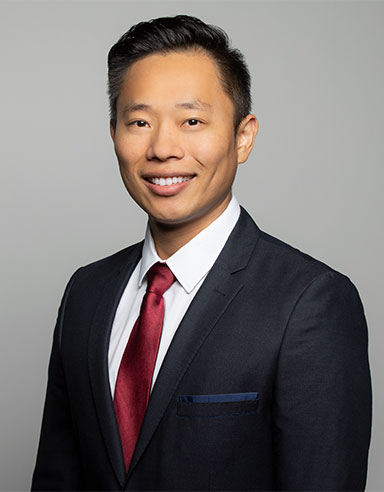 Kevin Kim, DO
Dr. Kevin Kim is a fellowship trained orthopaedic surgeon with expertise in the treatment and reconstructive surgery of the hand, wrist, forearm, elbow, and shoulder.
After earning a Bachelor of Science in Physiology at the University of Arizona with Summa Cum Laude distinction, he earned his medical degree at Touro University College of Medicine in Nevada. After graduating medical school at the top of his class, he relocated from Las Vegas to New York where he completed orthopaedic surgery residency at Nassau University Medical Center on Long Island where he served as Chief Resident and also met his future wife, who is an Orange County native. He published several articles on orthopedic surgery topics, with one awarded and presented as first-place at the American Osteopathic Academy of Orthopedics annual meeting in 2021.
Dr. Kim further advanced his training by completing a prestigious Hand Surgery fellowship at the University of Connecticut School of Medicine under the tutelage of H. Kirk Watson and Duffield Ashmead, amongst other renowned hand surgeons. There his rigorous training included the treatment of all ailments of the upper extremities: bone, nerve, vascular, and soft tissue including but not limited to fractures, carpal tunnel, cubital tunnel, trigger finger, DeQuervain's, arthroplasty, wrist arthroscopy, tendon rupture, tendon transfer, nerve repair, nerve transfer, trauma, reconstruction, microsurgery, post-traumatic, degenerative, and acute hand/upper extremity trauma including replantation.
Dr. Kim believes in a comprehensive approach to patient care, working with different specialists and therapists before surgery is considered. He truly believes surgery is the last resort and if it is necessary, he will perform surgery utilizing the most effective, minimally invasive and safe techniques tailored for each person in an effort to minimize complications, recovery time, and to optimize outcomes. He also has a special interest in treating post-stroke victims.
In his free time, Dr Kim enjoys discovering new restaurants, weightlifting, fishing, and spending quality time with his wife and two children.